What is longtailpro?
If you create niche sites, do video marketing, or run paid ads, you absolutely MUST do keyword research. If you don't do research, you are going in without a clue of what to target.
You can do keyword research in 2 ways.
Manually
Use a reliable keyword research tool.
The only advantage of doing research manually is that it saves you money. But there are also many disadvantages. For example, keyword research is time-consuming and energy-sapping, but it is also complicated to calculate the competitiveness of a keyword by yourself.
The competitiveness value is based on various metrics, and figuring them out is just too tedious.
Therefore, you are left with the second option - using a keyword research tool. With a good tool, you will get detailed data in minutes. You'll be able to create a long list of keywords to target, you'll know your chances of ranking for a keyword before you even start, and most importantly, you'll be able to do it all quickly and without much effort.
There are many keyword research tools on the market because thousands of marketers need them - and where there's money to be made, there's competition; you can bet.
That's good news and bad news for you. The good news is that competition forces many of these tools to constantly improve and get better. The bad news is that it can be overwhelming for you when it comes to choosing one.
When talking about keyword research tools, most SEO specialists and niche marketers mention a few popular names like Ahrefs, SEMrush or Long Tail Pro.
Our research has shown that most beginner and advanced marketers prefer Long Tail Pro (LTP). So let's take a look at why this is one of the most sought-after keyword tools on the market.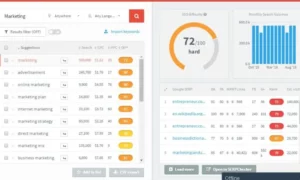 The Pros
Affordable
If you are looking for a keyword research tool that does a good job, but you don't want to spend a lot of money on it, you need Long Tail Pro. Its affordability is a very strong selling point.
Honestly, Long Tail Pro gives you a lot of the data you get from the big brands' keyword tools. But for a fraction of the price. Currently, Long Tail Pro costs $37 per month ($297 if you pay annually). In comparison, SEMRush costs $119.95 per month.
While there's no denying that SEMrush has more features and data, most beginners are just looking for the basic keyword information that will help them rank their blog posts in the search engines. They don't need white-label reports and keyword cannibalization reports.
Long Tail Pro is simplicity in action. It gives you the keyword information you need without costing a bomb or overwhelming you with data. That's exactly what most marketers want.
Free Trial
You can try Long Tail Pro absolutely free for 7 days. Once you see how effective it is, you'll probably pay and upgrade. But try it out first and do some keyword research.
Easy to use
Long Tail Pro's user interface is much simpler than tools like SEMrush or Ahrefs. You will have no problems using it within a few minutes.
Long Tail Pro has an extensive knowledge base with articles and guides to help you if you need explanations and instructions. In addition, since this tool is so
popular, many marketers have posted tutorial videos on YouTube that show you how to use LTP effectively.
Discover new keywords for you
Long Tail Pro's keyword suggestion feature helps you discover many long-tail keywords with less competition but a relatively high number of searches. In general, these keywords are easier to rank for.
Save these keywords and use them in your blog posts, etc. In this way, you will increase traffic to your website by using many long-tail keywords.
Keyword Competitiveness Score
Long Tail Pro assigns each keyword a score that indicates how difficult it is to rank for that keyword. It would help if you focused on scores between 15 and 20. Then, as your site gains traction, you can target the keywords in the "medium competition" range.
Ranking Tracker
With Long Tail Pro, you can track where your keywords rank in search engines. This saves you time and effort. You don't have to check them manually anymore. LTP will even send you an email once a week with your keywords rankings if you have specified this in the settings.
SERP Analysis
With this feature, you can enter up to 200 keywords, and LTP will analyze the top 10 results and tell you how your competitors are performing. Using this data, you can see what you need to do for your blog posts to move past the competition.
SEO audits
Not only do you need to spy on your competitors, but you also need to know how your website is performing in search engines. With Long Tail Pro, you can complete an SEO audit of your website to check its loading speed, internal linking, on-page SEO, and all the other essential items for a good ranking.
Again, this is invaluable information that will give you an edge in SERPS rankings.
The Cons of longtailpro


Long Tail Pro may not be suitable for SEO agencies, experienced marketers who need more data, and so on. It is a good tool, but it has its limitations.
You could even say that it is a mediocre keyword tool and not a high-end one. Nevertheless, it is a proven keyword tool that has withstood the test of time. You can't go wrong with it.
Should you buy it?
If you have a smaller budget and don't want to spend a lot of money on more expensive keyword tools, you are better off with Long Tail Pro.
It may not have the advanced features of the other tools, but it can give you enough data to create an effective content and SEO strategy to rank in the search engines.
At the end of the day, that's what matters. Long Tail Pro will work if you use it. So get it and get your website on the first page of Google for your keywords.
>>> Click Here To Get 30% OFF Long Tail Pro